| | |
| --- | --- |
| | What is a Virtual Agent |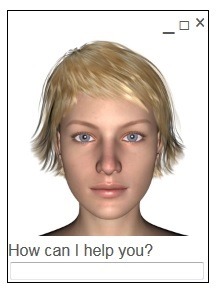 A virtual agent is a term typically used to describe a type of chat bot used for business.
A virtual agent could be a virtual sales agent, a virtual customer service agent, or other type of virtual agent.  It is basically a automated version of a typical human employee and attempts to perform the same functions.
There are many virtual agents on many different websites on the Internet.  They offer help with their websites, give information about their companies products or services, answer users questions, provide support and customer service.
The Bot Libre Help Bot is a virtual agent, also the Paphus bot for Paphus Solutions.
Virtual agents are typically animated, and have TTS (text to speech), but are also commonly text based.
Virtual agents are commonly used with a website live chat, to provide customer service when no human agents are available, or are too busy.
You can create your own virtual agent for your website or business for free on Bot Libre.  Bot Libre provides many tools that help make it easy for you to developing a virtual agent, and embed in on your own website.
You can train your agent by importing your FAQs on your business, and the bot will automatically select the best answer for a users question, without any programming required.  You can also enter keywords, and topics to improve the bots matching, and use our powerful Chat Logs feature to review your bot's conversions and correct any responses it got wrong.  You can also script or program your bot using AIML or Self.
Bot Libre also provides integrated live chat, so you can add live chat to your website (for free), and let your bot provide service when your human agents are not available.  You can even configure your bot to automatically learn from your human agents.
We can also create your virtual agent for you, and customize your live chat to suite your needs through our commercial service Bot Libre for Business, starting at just 99 cents per month.